ESK
Liverpool Nobby
CLICK for hull and sail plans with hull pictures.
Length on deck: 23ft 0in 7.0m Beam: 6ft 6in 1.98m

Displacement: circa 3400kg Draught: 3ft 6in 1.06m

Rig: gaff cutter as Jewel Class Engine: Betamarine 14 h.p. 2-cylinder diesel 2008

Builder: W. Crossfield & Sons, Arnside, 1914



Launched in 1914 as BRONX to the order of the Royal Mersey Yacht Club. The design originated in 1905 as Crossfield's Jewel Class, pioneered by the Blackpool and Fleetwood Yacht Club and adopted in 1912 by the RMYC for club racing with a 3-foot bowsprit and delivered at a cost of 70 guineas in a batch of six in 1912 and four in 1914. She was renamed as ESK in 1921. After a major restoration involving the fitting of a new engine and a new suit of sails she has raced and cruised in the Irish Sea and appeared at classic boat rallies in the Isle of Man. She is offered ready for immediate action, in Castletown, Isle of Man. Delivery to any part of Europe can be arranged.






ESK was built in 1914 by Crossfields, the famous Arnside, Hoylake and Conwy boatbuilding family who built most of the Morecambe Bay shrimpers and prawners and dozens of variations on the fast and handy Liverpool Nobby. She has been restored with great sympathy by a fastidious owner who conducted research into achieving the sail plan of the original Jewel boats. For sale with 2011 sails.

Hull:English oak keel, pitch pine on sawn oak frames with steam-bent rock elm intermediate timbers on an oak backbone and elm coamings capped with varnished teak. The bolts on the 500kg iron ballast keel were drawn in 2003. The rudder blade was rebuilt in 2008. The nogs [samson posts aft] were replaced in Utile running down to the bilge ribs as in the Crossfield 1912 specification, samson post replaced in Utile, attached to deck bearers and keelson. Deck area under transom replaced in pitch pine and hexagon collar around mast replaced in Utile. A new pitch pine bowsprit was fitted in 2008. Every other rib is doubled and attached to solid floors secured to the keelson. The keel bolts extend to include a heavy longitudinal spar laid over the floors to spread the loading. Drying legs and winter covers.

Sails and rig:Gaff-rigged using new Davey bronze Wykeham Martin furling gear fitted for both jib and foresail. New port and starboard halyard pin racks fitted with brass belaying pins. Red mainsail new in 2011, new tan topsail 2011, four tan jibs. The rig is based on the original Jewel plan. The mast, bowsprit, boom and gaff are wood, varnished and in good condition. The standing rigging comprises two cap shrouds of 6mm 1x19 stainless steel wire with Talurit splices, looped over the masthead and tightened by deadeyes. The forestay is 8mm 1x19 stainless wire adjusted by a bottlescrew. Racewinner in 2014.


Engine: Betamarine [marinised Kubota] BZ482 13.5 bhp two-cylinder naturally aspirated diesel engine with PRM gearbox, fresh water cooled by heat exchanger, fitted new in 2008 forward in the cockpit, slightly to port of the centre line with a new one-inch off-set stainless steel shaft, new stern tube and British-made FeatherStream folding propeller in 2010. The engine is housed in wooden box with removable cover and controlled from the helm position by single lever Morse cable controls. A 25-litre plastic fuel tank is fitted. A Yuasa 59Ah battery is fitted in a separate box forward of the engine and all wiring is contained in the engine and battery boxes which are fitted with oil pressure and water temperature gauges and warning lights. The new exhaust system fitted in 2010 includes a 51mm flexible pipe to the transom, brass exit, one-way valve, anti-syphon box and water-lock silencer. Remote brass greasers for stuffing box and shaft bearings.

Deck gear: Single 62 inch curved tiller in Utile fitted 2008. Two sheet winches, fisherman main anchor with chain and warp, hand-operated windlass, mooring warps and 6 fenders, varnished tiller and cockpit seats. Bruce Fisherman anchor [5kg] with chain and warp.

Navigation equipment: Silva LB70 steering and hand-held bearing compass. Clipper Duet log.

Safety gear: Portable bilge pump and manual bilge pump.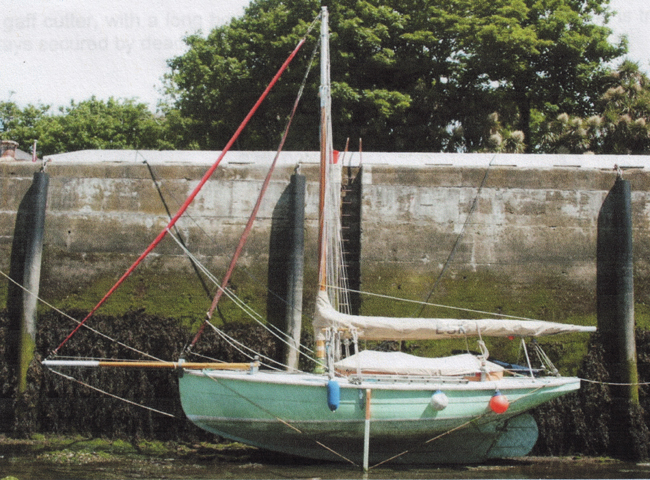 CLICK for sail and hull plans and history of the Jewel and Rivers classes..

GBP 8,000.00 NOW SOLD

brokerage sale Coburg Yacht Brokers

Sealand Boat Deliveries Limited
Douglas Boatyard, Becconsall Lane, Hesketh Bank, Preston, Lancashire, England. PR4 6RR
Tel: 01254 705225
TeleFax: +44 1254 776582
International: +44 1254 705225



Internet address: http://www.coburgbrokers.com



e-mail: ros@poptel.org

1985623 England VAT Reg: GB 458 0236 50

Please note: in this case we are acting as brokers only. The vendor is not selling in the course of a business. Whilst every care has been taken in their preparation, the correctness of these particulars is not guaranteed. Particulars do not constitute a term of any contract. A prospective buyer is strongly advised to check the particulars and, where appropriate, at his own expense employ a qualified marine surveyor to undertake a survey and, if necessary, to undertake an engine test. Offered for sale subject to being unsold.